Season Eleven
Talk

8
5,024pages on
this wiki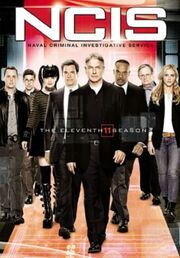 Season Eleven of NCIS premiered on September 24th 2013 at 8pm in the United States. NCIS was later followed by episodes of the spin-off series, NCIS: Los Angeles which aired an hour later at 9pm. The season concluded on Tuesday May 13th, 2014.
Cast
Series Regulars
Season Eleven Cast
Cast Notes
Cote de Pablo who portrayed Ziva decided not to renew her contract for Season 11 citing a lack of financial parity under the contract offered by the studio and producers. Her final appearance as a series regular has occurred in the second episode of the season, Past, Present and Future (episode). As stated by Executive Producer Gary Glasberg, Ziva's departure from the series did not involve her death.
Marina Sirtis has briefly reprised her role as Director of Mossad Orli Elbaz.
A new character named Murray, the I.T. department's new hire, who is a towering figure tasked with digging up information on an intruder and tracking down a potential hacker, was introduced in the first episode. He was played by Will (William A. Paxton) Harris.
Margo Harshman is portraying McGee's girlfriend Delilah.
Roma Maffia is portraying an NIS/NCIS Agent nearing retirement who had a history with Gibbs and Mike Franks.
Muse Watson has reprised his role as Mike Franks.
The process of casting Cote de Pablo's replacement has begun, the role was filled earlier than expected, and the first episode with her, Gut Check, has aired in November.

The new agent is named Eleanor Bishop and was described in the casting notice as follows: Agent Bishop — 20 something bright, educated, athletic, attractive, fresh-faced, focused and somewhat socially awkward. She has a mysterious mixture of analytic brilliance, fierce determination and idealism. She's traveled extensively, but only feels comfortable at home.
Emily Wickersham has been cast in the role of Agent Bishop. Wickersham's role was initially a three episode agreement with a series regular option. She has officially been promoted to a series regular on NCIS in 2014.

Melinda McGraw has reprised her role of Diane Sterling for the 10th episode of Season 11 aired on 10 December 2013.
Robert Wagner (Anthony DiNozzo Senior) is slated to appear in the 250th episode in the spring of 2014.
Susanna Thompson has reprised her role of Lieutenant Colonel Hollis Mann, USA (Ret.) for the 12th episode of the season, Kill Chain. She did not appear in the 250th episode.
Ralph Waite (Jackson Gibbs) who passed away on February 13, 2014 will be honored in the NCIS Season Eleven Finale.
Gary Glasberg spoke in an interview with TvLine January 18th 2014 and said that they will introduce Gibbs's second exwife in Season 12,  (the ex-wife between Stephanie Flynn and Diane Sterling).
Episodes
NCIS   Season Eleven - Episode List


Episode Number
Title
Airdate
Notes
Series
Season
235
1
Whiskey Tango Foxtrot
24 Sept. 2013
Season Premiere.
236
2
Past, Present and Future
1 Oct. 2013
Marina Sirtis reprises her role as the Director of Mossad. This episode also marks the final appearance of Cote de Pablo as a series regular in the role of Ziva David.
237
3
Under the Radar
8 Oct. 2013
Mike Franks' final partner Special Agent Vera Strickland is introduced
238
4
Anonymous was a Woman
15 Oct. 2013
Gibbs and the team protect a women's shelter affiliated with Mike Franks.
239
5
Once a Crook
22 Oct. 2013
DiNozzo's past as a Baltimore police officer comes to the fore when an old informant is connected to a current case.
240
6
Oil and Water
29 Oct. 2013
CGIS Senior Special Agent Abigail Borin returns
241
7
Better Angels
5 Nov. 2013
Gibbs takes a leave absence to help Jackson Gibbs reconnect with a veteran
242
8
Alibi
12 Nov. 2013
A closed case is reopened when a former FBI agent turned lawyer confides in Gibbs that her client's alibi is solid
243
9
Gut Check
19 Nov. 2013
Debut of Emily Wickersham as Eleanor Bishop
244
10
Devil's Triad
10 Dec. 2013
Melinda McGraw returns as Diane Gibbs Fornell Sterling
245
11
Homesick
17 Dec. 2013
246
12
Kill Chain
7 Jan. 2014
Debut of Karan Oberoi as Benham Parsa and Susanna Thompson reprises the role of Lt. Colonel Hollis Mann, USA Ret. for the first time since season five.
247
13
Double Back
14 Jan. 2014
Abby reveals that Rule 62 is "Always give space to someone when they come out of the elevator".
248
14
Monsters and Men
4 Feb. 2014
Bishop is given an official job offer from Gibbs.
249
15
Bulletproof
25 Feb. 2014
Delilah Fielding has trouble adjusting to being permanently paralyzed, being reluctant to appear in public in a wheelchair.
250
16
Dressed to Kill
4 Mar. 2014
Anthony DiNozzo Senior appears once again.
251
17
Rock and a Hard Place
18 Mar. 2014
252
18
Crescent City
25 Mar. 2014
Debut of the characters that will be appearing in NCIS: New Orleans
253
19
Crescent City Part 2
1 Apr. 2014
254
20
Page Not Found
8 Apr. 2014
255
21
Alleged
15 Apr. 2014
256
22
Shooter
29 Apr. 2014
257
23
The Admiral's Daughter
6 May 2014
258
24
Honor Thy Father
13 May 2014
Gibbs returns home after learning that his father has died. Season Finale.
Trivia
Season Eleven aired alongside Season Five of NCIS: Los Angeles.
This is also the first season that has Emily Wickersham (Eleanor Bishop) on the DVD cover.